OpenOffice.org V3 – 100,000,000 Downloads
OpenOffice just completed their HUNDRED MILLION downloads of OpenOffice Version 3.o – The Free and Open Productivity Suite.
OpenOffice 3.0 was released on October 13,2008 with lots of new features.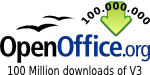 And on 29th October 2009 it reached to a 100,000,000 downloads in a year. Its a time span of 1 year and 16 days.
And even there is going to be a celebration & 'Cento Milioni' Conference at Italy from 3rd Nov 2009 to 6th Nov 2009.
OpenOffice Home Page : http://www.openoffice.org/
Download OpenOffice : http://download.openoffice.org/index.html
Download Extensions : http://extensions.services.openoffice.org/