Free photo resizing software – Fotosizer
Looking for a free software to resize your large photographs ? Want to send some photos to your friends or want to share multiple photos on some social networking site then fotosizer is the best option for you.
Then you should have a look at Fotosizer.
http://www.fotosizer.com/
Its a very good software which anyone can use without any problem.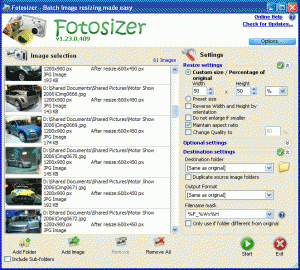 Checkout some cool features here.
Fotosizer Website – http://www.fotosizer.com/
Fotosizer Download – http://www.fotosizer.com/Download.aspx
Direct Download – http://www.fotosizer.com/Downloading.aspx