Web Developer Firefox Addon for clear understanding & development
The Web Developer is a firefox addon for designers, developers.
It has got its collection of tools which will help you understand the current web page easily and you can inspect different things present on that webpage easily.
You can add or edit or modify the page, off course the changes are temporary, but its very useful tool.
It has tools like
CSS – you can remove , add or edit the css for the current page
Forms – Different form options
Images – Remove or show alt text and many options
Cookies
Resize
and lots of things………..
Just Download the Web Developer addon for firefox and try it out.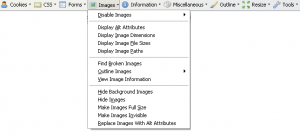 Web Developer Download Page – https://addons.mozilla.org/en-US/firefox/addon/60