Use MentionMap to Explore Twitter Network Graphically
Have you seen Mentionmap ? A nice GUI tool which can be used to Explore your Twitter Network Graphically……
asterisq released this new tool…Its Amazing….
It shows with which people you interact most and what they are talking about.
Its a application run in the browser and displays data from twitter API.
Mentionmap loads each user's Twitter status updates (tweets) and finds the people and hashtags they talked about the most. The data is displayed using Constellation Framework, a graph visualization library for Actionscript.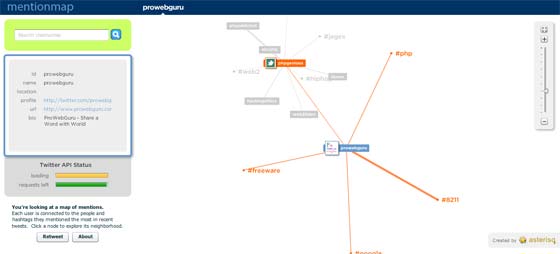 Once you type your username and submit it, it calls twitter api and shows data graphically, allowing you to browse through your network.
Even it shows the path which you are going on top of the screen.
Checkout more details about mentionmap in the Blog Post.