Free Online Text Image Watermark Generator – Beta 1.0
Experimenting little bit with JQuery and PHP…
I searched on net for Free Online Text Image Watermark Generator which will allow me to upload any image, position the text wherever i want on image and let me change color, font, size everything in simpler GUI….
But i didn't got it….
So I created a simple watermark generator with php and jquery….
Still its in Beta testing….So there are errors, problems, bugs…. I am working on it to improve.
It allows you to add your own custom text to the image without any software. Just add any text to image online with this free tool.
If you want to try it, you can check it here
Its a very easy to use tool, let me know your feedback, if you use it…doesn't matter whether feedback is good or bad..I want to improve it.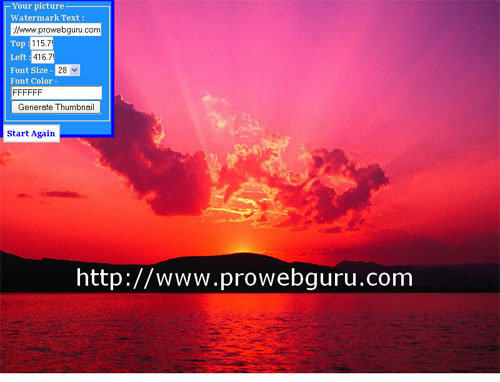 Some of the features of this tool are
You can upload files upto 1MB (as i have a very limited hosting space and bandwidth).
Very easy interface for creating for text watermark on images with custom text.
You can drag and drop text from one position to another.
You can change the color of text watermark.
You can change the font size according to your need.
If you want watermark to be put on specific positon eg. at x=200 and y=200 then even you can directly specify that.
Direct download option for downloading the created image.
Images will be stored on server for a very short amount of time.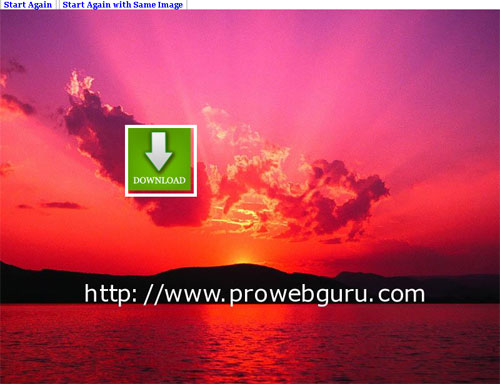 Still this program is under beta testing, if you find any problems or if you have any suggestions the do let us know at the comment section below.
If you liked this program then do tell your friends and help us spread the word.
We would like to hear your suggestions and feedback about this small app.
Thank you.