Watch Indian TV Serials Episodes on Youtube Shows Free
Youtube now has a big collection of 19000+ episodes of 300 Indian TV Serials in six different languages (Hindi, Tamil, Telugu, Bengali, Gujarati, and Punjabi). Watch Hindi, Marathi, Tamil, Telugu, Bengali, Gujarati, Punjabi TV serials online on youtube.
Now Youtube has a updated separate section "Shows" to watch Indian TV serials. Youtube indian serials is a nice option for you to watch indian hindi daily soaps and hindi tv serials online. Even those who don't know how to watch tv online, even they can just go to youtube and watch indian serials, hindi tv shows and free online shows.
Just don't worry if you miss a episode of your favorite TV Serial… Go to http://youtube.com/shows to watch episodes from your daily soap.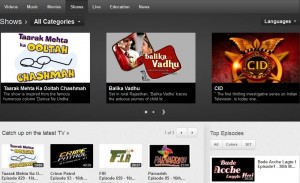 Youtube has been always a prime provider of Video Contents with ease of accessibility and this new step will be definitely be a good option for the Indian TV Serial Viewers. Watch hindi serials online at youtube anytime. Watch free hindi serials, watch hindi tv online and online tv serials at youtube.
Read more on Youtube Official Global Blog post.