Powerful Combination of Gmail & Google Drive to Send Large Files
Many a times, there is a need to share large files with someone. Now with Google Drive & Gmail its possible and very easy.
Now you can upload your large files in Google Drive. Every Google Drive user is given 5GB of free space for creating and uploading files.
Even you can purchase additional storage.
Google Drive now supports uploading of files upto 10GB (if you purchased additional storage), (files which are not converted to google docs format).
And Gmail in combination with Google Drive is the best feature to use for sending large files, as now file uploaded in Google Drive can be directly sent/shared with anyone through GMail itself.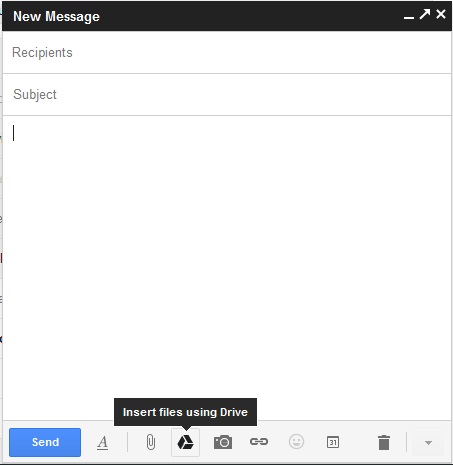 As you are sharing a file through Google Drive which is a Cloud Storage, so everyone will have access to the latest copy of file.
Even while sending it through mail, GMail checks if every person to whom file is being sent is having permissions to view it. If the recipient is not having access to view the file, it will prompt you to give permissions. Its very Cool…
Presently this feature is available only in the New Compose.