Download & Upgrade to Pligg CMS 2.0 Latest Version
It's been a very long time, I was waiting for the latest version for one of my favorite CMS, PLIGG. And recently PLIGG has announced the latest version PLIGG CMS 2.0.0 RC1.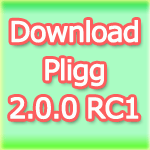 Pligg is "A Social Publishing Content Management System". Pligg is Open Source. Pligg can be used to create different kind website to publish contents.
Recently Pligg has recently announced latest version and changes in the blog post. Even http://www.pligg.com is relaunched with new design and changes. Even with new Downloads section. Most of the plugins have been upgraded to new version and some of the items will not be ported. New design is based on Bootstrap.
Following are some of the changes, according to blog post
Up + down voting
The "Upcoming" section has been renamed to "New"
New admin panel design with much improved usability
New front end design, based on the responsive Bootstrap design
Now includes 12 languages: Arabic, Catalan, Chinese, English, French, German, Italian, Russian, Spanish, Swedish, Thai, and Turkmen
Multi-level commenting
Drag and drop modules from the admin panel module management page to determine their display order
Log in using your email address or username in the user field
New Infinite scrolling or Ajax button pagination options
New, more secure, SolveMedia CAPTCHA
Password reset now sends a link to change it in-browser, rather than a new password via email
Larger default avatar sizes (32px small, and 100px large) with the new ability to call and generate custom sizes
Admins can change the author of a post from the edit story page
View the website error log from the admin panel
Manage a domain blacklist and whitelist from the admin panel
Override module template files by storing a copy in your template directory
Admin modify language editor now includes module language files
Adjusted friend system. Now relationships are more of a follower/following Twitter style
Improved troubleshooter page
Moved log files into /logs.default/ directory so that you wouldn't have to rename as many files during installation
Removed the /cache/templates_c/ directory, moving the template cache to just /cache/
Better admin panel module version checking
Renamed a number of template files to more common sense names