Win 1 of 5 Standard Accounts With BlogEngage
I am very excited and happy to announce First Giveaway in association with Blog Engage. Thanks to Brian from BlogEngage. This contest allows you to win 1 of 5 Standard Accounts with BlogEngage. You can connect to contest using Twitter and or Facebook.
Joining this contest is pretty simple. You have to earn points or entries by tweeting or following on facebook or twitter.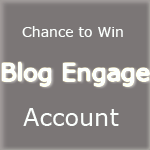 Blog Engage is an amazing community where other like minded bloggers meet, submit their own posts, vote and comment with one another, hence the name Blog Engage. Blog Engage is one of the largest fastest growing communities specific to the blogosphere.
So what are you thinking ? Just do some tweeting and following…And you will get a chance to win Standard Account with BlogEngage.
Lets start earning entries now !!!
Don't forget to tell it to your friends! Why not give them a chance to win ?